iDECO 3PCS Floating Rak Dinding Terapung Hanging Shelf Wall Shelf/Floating Rack/Floating Shelves/Wall Shelves/Wall Rack
Price

RM19.90

RM38.90

Product SKU
ID0765
Size (L x W x H)
88 cm x 7 cm x 17 cm
Availability
Shipping Fee

Option
Description
Highlight
Product specifications and features.
Brand new and high quality wall shelves.
A great way to maximize use of all available space and get things off the ground.
Wall shelves can be decorative, serve as storage, etc.
Wall shelves can help turn your empty walls into a great spot to show off your things.
Keep your room or house clean and simple with this floating shelves.
A floating shelf is a form of shelf designed so as to avoid showing any unsightly brackets, appearing as though it is "Floating" on the wall.
It's functional and can be placed anywhere of the house.
They can also serve as the foundation for decorative groupings when several are used to hold family photos and members.
The shelves are also user-friendly with detailed setup instructions and all required hardware included.
They complement many decor styles and show no visible support, making them seem to float on the wall.
Size: 40cm x 1.6cm x 15cm, 60cm x 1.6cm x 15cm, 80cm x 1.6cm x 15cm
Package includes.
1 x Set of 3: Cloud Floating Wall Shelves cabinet tv home deco rack mount tv books storage room
『 PRODUCT SPECIFICATIONS 』
➤ Colour:
(i) Black
(ii) White
➤ Size/Dimension(W x L x H):
(i) 40 x 15 x 1.6 cm
(ii) 60 x 15 x 1.6 cm
(iii) 80 x 15 x 1.6 cm
『 PRODUCT FEATURES 』
✔ Brand new and high quality wall shelves.
✔ A great way to maximize use of all available space and get things off the ground.
✔ Wall shelves can be decorative, serve as storage, etc.
✔ Wall shelves can help turn your empty walls into a great spot to show off your things.
✔ Keep your room or house clean and simple with this floating shelves.
✔ A floating shelf is a form of shelf designed so as to avoid showing any unsightly brackets, appearing as though it is "Floating" on the wall.
✔ It's functional and can be placed anywhere of the house.
✔ They can also serve as the foundation for decorative groupings when several are used to hold family photos and members.
✔ The shelves are also user-friendly with detailed setup instructions and all required hardware included.
✔ They complement many décor styles and show no visible support, making them seem to float on the wall.
『 Package include 』
✔ 40 x 15 x 1.6 cm
✔ 60 x 15 x 1.6 cm
✔ 80 x 15 x 1.6 cm
『 PRODUCT DETAILS 』
★ Due to different production batches, product details might be slightly different. Please mind the difference before purchasing.
★ Kindly allow 1-3cm errors due to manual measurement. (Note: 1cm=0.3937inch)
★ Due to the different display and lighting issue, the picture may not reflect the actual colour of the item.
★ Weight differs based on volumetric weight and actual weight, whichever is higher.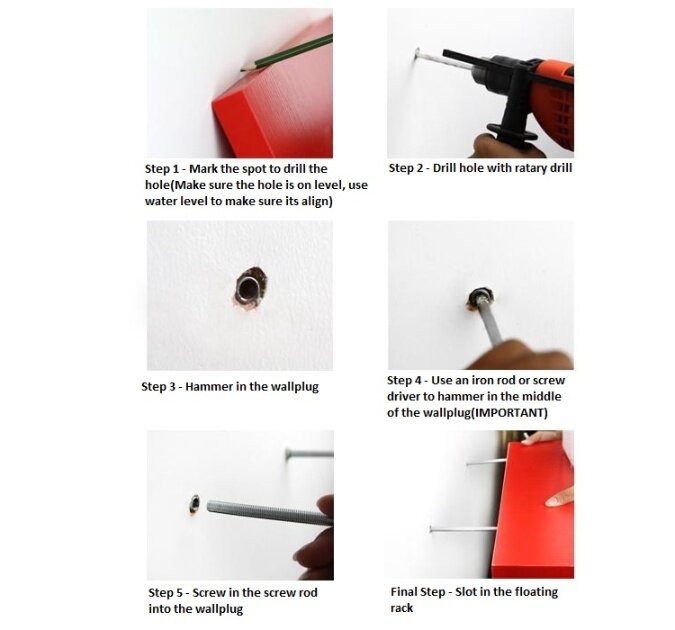 What's in the box
1 x Set of 3: Cloud Floating Wall Shelves cabinet tv home deco rack mount tv books storage room